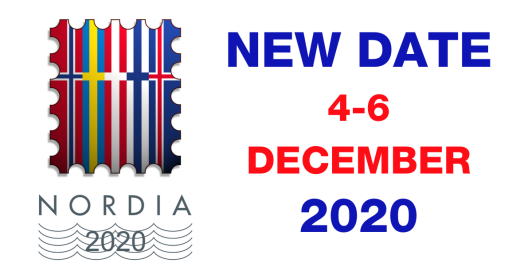 New date for Nordia 2020 will be December 4-6, 2020.

As the corona crisis appears to last longer than we hoped, the Exhibition Committee has decided to postpone implementation until the first weekend in December. We hope that all dealers and exhibitors will follow and contribute to a good Nordia exhibition. We also open up for more exhibitors to apply until August 30. We can also welcome a few more dealers.

Planning an event of this size with corona hanging over it is frustrating. We are convinced that most things will be better when we have now decided to move the exhibition to December, says Chairman Lars Nordberg.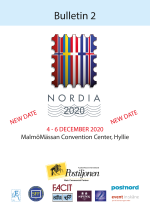 The planning for Nordia 2020 has come a long way. Bulletin 2 is on its way out to exhibitors and dealers and other interests.
Read it...
Now we have received applications from 137 exhibitors with a total of 740 frame pages. In addition, about 80 frame pages in the invited class.
The Royal Philatelic Society London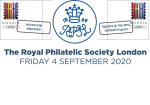 On Friday, September 4, RPSL has an public program at MalmöMässan Convention Center as well as an evening dinner at Malmö Live for members and guests. There will also be an anniversary reception at the Postiljonen office. Read more...
UniqUnique items are exhibited
At Nordia, the Club de Monte Carlo will exhibit over thirty philatelic items which are among the rarest in the world

Bulletin 1 inclusive The NORDIA 2020 Special Regulations (IREX) is now available. Do you want to
read it...